Nora Roberts:
Bride Quartet Series
What's better than a wedding? Four weddings! Meet the women of Vows, Connecticut's most fabulous event planners, who know how to create the perfect celebration—but have to face their own jitters when it's their turn to walk down the aisle.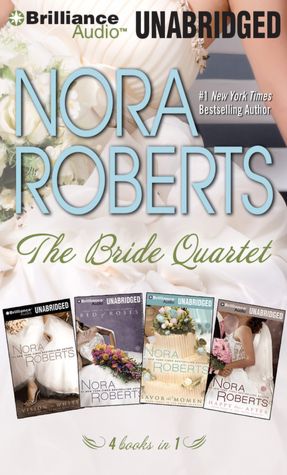 I listened to all four of these novels on audiobook. Ironically, the characters in these books are well thought out. I feared that the four women, and the corresponding men in their lives, would get repetitive. But, honestly, Nora Roberts did a great job creating seperate personalities for each of her characters.
She also did a great job of running themes throughout the four books that tied them together. For instance, Mac's (the photographer) mother, Linda, played a villain's role throughout the series. Linda exposed the inner fears of each of the characters and created turmoil and conflicts throughout.
I listened to the entire series on audiobook, and I really think it made a difference. The characters were distinguished by the narroator very well. It helped seperate the women and men for me, because they all had a different voice and different phrasing.
I would definitely recommend this series for anyone who has ever experienced love or friendship. It's also a great read for anyone who like weddings! As someone who loves watching wedding shows, like Say Yes to the Dress, I really enjoyed reading how the women planned the events. Makes me want to open a business of my own because it sounds so perfect!!!
Next up to be reviewed is
11th Hour
by James Patterson, so stay tuned!