Topaz and the Plum-Gista Stone by Pat Frayne
From Chapter Five:
The natural sounds of nature, such as those made by birds and insects, were absent in this curious place. Nothing green grew here, and there was no evidence that Strang ever saw the sun. Already the sky had begun to darken as though night was about to fall. A clammy,wetter, dampness came with it. The boys complained that it made their clothing feel sticky.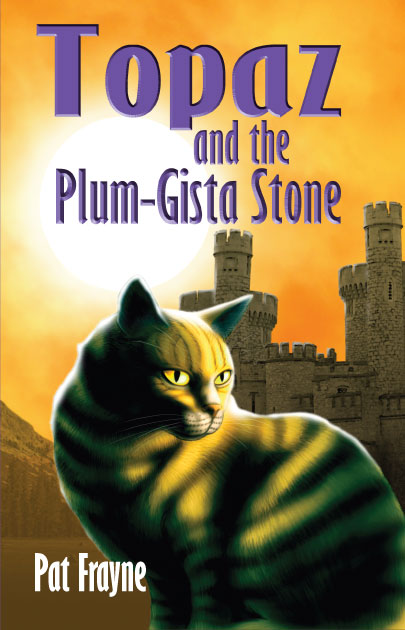 Slugs and night crawlers began to make their appearance. Some of them resembled huge maggots. They sprayed a stinking green juice from their mouths.Thorny black caterpillars with gray stripes were everywhere and seemed to glide over any obstacle in their path with minimal effort. That included the rocks and the roots. They left a putrid gray slime on everything, and the odor was as bad as rotting potatoes.
What was most unnerving for Topaz and his companions were the bizarre sounds they couldn't identify. They imagined some of these to be the voices of other creatures calling to one another. So far, they'd only seen caterpillars, slugs, and worms. They wondered what else was out there, and what would happen if their paths should cross.
"This place is spooky," Dooley said, his eyes bigger than usual in his gray face, as he looked all about. The whitish rings around his eyes made him look a little comical. The hair on his back was raised slightly, and his bushy tail twitched as if it was in spasm. Living alone as they had, Hoc and Boc had learned they could withstand anything as long as they had each other. It was no wonder that by now they had become inseparable. On the trail, the boys were walking so close together they could hardly keep from bumping into one another or tripping over each other's feet.
"We must be in the Land of Strang," Boc murmured.
"This is a creepy place," said Hoc. "I knew it would be, but I just didn't think we would be here when it got dark."
Topaz had been in a state of hyper-awareness ever since he had set paws on the mountain. His ears were constantly twitching and repositioning as he strained to locate the direction of every sound. When the trail leveled off at the top of the mountain they found themselves in the woods. There were several different kinds of trees here. All of them were some shade of gray. The same powdery stuff covered their needles and leaves.
"Let's make camp here for the night," Topaz said when they came to the small river. It was already dark and the group was exhausted. They had been on edge all day and the last few hours of listening to all of the weird noises hadn't helped. It was quiet now, and everyone wanted to get some sleep while they still could. Hoc shared what was left of the dried mushrooms from his bundle. It was enough to go around as no one felt much like eating.
Mindful of Heak's warning about vigilance, Topaz and Boc took the first watch together. It seemed more sensible for two to keep watch at the same time; one could keep the other awake. They had done it this way since the beginning of the journey, and so far it had worked out well.
* * *
At the end of his watch Topaz curled up on the grassy bank of the river to sleep. Resting his chin on his forepaws and wrapping his long tail around his hind feet, he began to dream almost as soon as his eyes closed.
Vague images of his youth played in his head. Then there was the sudden appearance of his great-grandfather. Amber Tiger came to him in a vision, propelled by a mist that had risen from the river. The dream had an unusual clarity to it, and it was for this reason that Topaz believed himself to be awake.
*****
A
uthor Bio:
About the Author: Pat Frayne, a retired registered nurse with twelve grandchildren, lives in a small town in Arizona with her husband, Ron and their dog, Charlie, a black lab mix. Her action adventure mysteries take place in mystical lands inhabited by Fairies, Elves, Gnomes, Sprites, Ogres, witches, wizards and other mystical beings. While written for children ages eight through twelve, many adults have greatly enjoyed these stories.
Topaz must find out what evil sickness has befallen his old friend, Otis, the great owl. With the help of his companions, Daisy and Dooley, Topaz takes Otis to the Healing Gnomes at North Fortress. As for Topaz and his raccoon friend, Dooley, their journey doesn't end here. Grim circumstances compel them to search for a rare, precious stone know as the Plum-Gista. Their travels take them to new and mysterious lands where they will make new friends and meet unusual beings. A warning from the Spirit of Amber Tiger gives Topaz reason to doubt his own judgement as life-threatening dangers and dark magical forces close in.
These cleverly woven and original tales of a mystical cat, his friends, and the magical land they live in will truly captivate anyone who loves mystical stories of high adventure. The reader is drawn into the amazing Kingdom of Knownotten and introduced to unforgettable characters. The classic fight of good vs. evil is waged in a world inhabited by Fairies, Elves, Gnomes, wizards and talking animals. All of these creatures coexist in a complex and beautiful land of peril and wonder. The author has crafted a truly well-rounded and enchanting story, rich with suspense, humor and tenderness.